Steve Laffie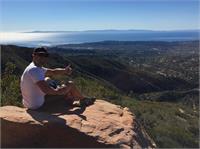 Wind, sky, fire, waves, earth and tree, in the mountains and sea is where I'll be. I started as a little sprout growing up in the coastal woods of New England and playing in the chilly Atlantic waters off Northeast Massachusetts. Winters skiing in the White Mountains and summers spent in the islands of Maine, on Martha's Vineyard and on trips to visit family in California College beckoned like a siren call to the west coast and Santa Barbara connected me to a whole new diversity of ocean and mountain living and further groomed my appreciation and desire to protect the precious environment that most take for granted. The UCSB Environmental Studies program sent me out to the Channel Islands for multiple adventures and habitat restoration projects and cemented my interest in island ecology and biogeography. In 2000, a Wildland Studies program furthered that island love with 10 weeks backpacking the mountain trails and snorkeling the waters of the Big Island, Maui and Kauai. After some unfulfilling years working in a cubicle, I joined CIO in January of 2015 on a hope and a whim to work for company that truly practices everything I stand for and to help bring the passion I have for our planet to the next generation.
Steve Laffie instructs the following:
Want to get more fitness out of your time on the water? The goal of this class is to push your comfort zone outside of the normal leisurely paddle to a cardio workout paddle, focusing on stroke technique and cadence, engaging core muscles, and improving speed. You will be out breath, burn calories and be sore the next day...in a good way!

This is a scheduled group paddle for 1 hour.




Have you paddled past Sandspit and Leadbetter and seen people cruising on waves and thought...I want to do that? Now is your chance! This class will take you on a nice warm-up paddle through the harbor to Sandspit, or off Leadbetter beach to the point (depending on conditions), where you will play in the waves. You will focus on positioning yourself and turning for catching waves, acceleration paddle stroke, riding waves, and falling safely. This is a fun, no pressure group paddle for 1 hour.